My new friend Betsy at
Funky Mama Bird
sent me this award:
Here are the rules of the award:
1. copy and paste the award on your blog.
2. list who gave the award to you and use a link to her/his blog (or hyperlink).
3. list 10 things that make you happy.
4. pass the award on to other bloggers and visit their blog to let them know about the award.
(Yay! There are people who read my blog! That's awesome.)
Happiness Is ...
My Wee One when she first wakes up in the morning. Its like she's channeling God. Hr face is aglow and her smile is radiant and she sings and talks and the world is new again. Oh, and if you happen to ask "where's your cheeks?" watch out - your heart will fall out of your chest. I'm trying to catch it on film as proof.
A freshly laundered load of diapers. It always makes you feel like, no matter what, you have managed to accomplish
something
that day. Even if it is a load of diapers.
Flowers. Of any kind. In a vase or on a bush. I just like flowers.
The "light bulb" moment. When you're explaining a complicated concept and understanding dawns in the eyes of the other. It makes it all worthwhile.
A mandarin martini. I haven't made one yet this year, but that's when I used to know that summer had arrived - the annual martini party at the pool. I'll share the recipe when I do - it's pretty good.
My doggie. Darby Jo. I miss her terribly. She was with me for 12 years and the sight of her at the end of the day would make a whole day's worth of cares melt away. She gave that mantle to the Wee One when she left. RIP DJ.
My house. I'm a homeowner for the first time. I painstakingly picked colors and furniture, but it worked, because when the sun is shining in the window, or when I'm rocking the Wee One to sleep for a nap, I look around and feel joyful at my beautiful space that Wee One and I call Home.
My family. Nan and Grandpa are five doors down the street from us. They have really saved me a time or two (or five or ten). Grandpa wears a path between our houses bringing or picking up some forgotten item, or coming to get the Wee One so she can spend the day with them while I try to figure out which is more important: grading/school prep, cleaning the house, or maybe sleeping for an hour.
Sleep. I haven't had a complete night's sleep in 401 days. I get it when I can, and I survive when I don't. In about two and a half more weeks, I will send Wee One to daycare one last day before summer ... and I will go home and sleep. Then I will try to start teaching her to sleep. Should be fun.
All the people who care about me. I have come back to the place where I grew up and I have reconnected with a number of people who have known me for a long time and still want to hang out with me. I have "met" alot of people on the internet that read all my stuff and still want to "hang out" with me. I have seen the magic of support between mommies and friends online. It makes me very happy to feel so connected, when in my old life I would have maintained a safe distance from such connections.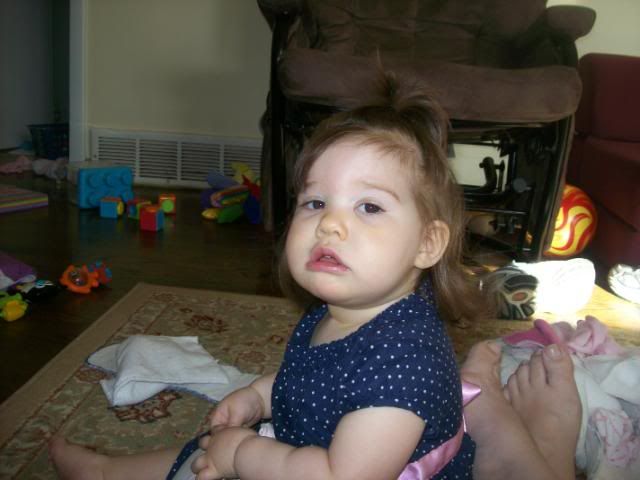 But of course, my Wee One tops the list. I challenged myself to not just write 10 things about the Wee One that make me happy, and I succeeded. But most of the things that make me happy now relate to her.
Go see
Betsy
. She has an adorable little boy-child. And is trying to pack for a move. A perfect time for visitors, no?
And now the award is sent to
Jamie
at Crunchy Cupcakes. I "met" Jamie since we are both cloth diapering mamas. She has good opinions on her reviews, if there is anything you wanted to try. And her kids are cute too.
--