Some people might consider this to be a lazy post. Those people might actually be right. Because I've never done anything like
this
to a diaper. So if you have limited time, skip the drivel below and go read what poor Betsy did to win the award for the worst thing to do to a diaper.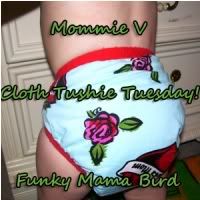 It's Cloth Tushie Tuesday! Our topic today, in honor of my co-host's recent troubles, is: "what's the worst thing you've ever done to a cloth diaper?"
I personally haven't really done anything horrible to a cloth diaper. Some of my diapers have met with demise, however - usually at the hands of my daycare.
1. I have lost at least two, possibly three diapers, that have been
thrown away at daycare
. The first was the cow print diaper, the second was a white Thirsties Duo, and the third was a generic pink pocket diaper.
2.
Diapers have come home covered in diaper cream
. Lots of scrubbing with Dawn has appeared to have saved them.
3. I admit, I did use a cloth wipes solution with tea tree oil that gave us
very bad repelling and leaking
.
I discontinued the use of the wipes solution and stripped all the diapers in Dawn. Problem solved.
4. Just this morning I found a thick, luscious prefold diaper in my mother's cabinet, wrapped around the can of (and having been doused in) furniture dusting spray. My aunt was the last one to clean my mom's house, and she probably thought it was okay, so I don't blame my mom. While I wish it had been just one of the cheap Gerber prefolds (that I have told my mom that she can use for cleaning), a $2.50 prefold is still much better than an $18 pocket diaper.
But still, I've got nothing on FMB's grout issues.
Link up below, and tell us ... what's the worst thing you've ever done to a cloth diaper?