What are your mama hacks for using cloth diapers? Today for Cloth Tushie Tuesday, we are discussing the hints and tricks that help make it easy for you to cloth diaper. What's something you've discovered about cloth diapering that makes it easier for you? What can you share about your routine that is really making it work for you?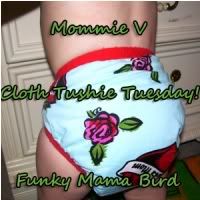 Here are a couple of mine:
1.
Your
wet bag
is your friend
. Don't leave home without it. Use ones with
zippers
, the drawstring ones are cheaper, but leak/smell. You need at least
one big one
for the changing table or door knob, and
small ones
for the diaper bag and daycare. Buy as many as you can in cute
colors and prints
, and keep them where you can grab them when you are on your way to daycare, to grandma's, etc. Yesterday I was shopping with the wee one when she had a poo I could smell from across the store. While in the changing room, I decided to discreetly change her diaper, so that I could seal the poo up in the zippered wet bag, and protect all the other shoppers from the smell. Only ... I didn't have a wetbag. Thankfully I did have a diaper bag with a zipper ... that is washable.
2.
Use the simplest system that meets your needs
, (and its cousin:
find a system and stick with it
). I'm all about trying lots of different cloth diapers. But when your stash is 10 different kinds of diapers, it's hard to organize and hard to use. Do your research, yes. But then: decide. And if it isn't broke, don't fix it. Prefolds and covers is one of the simplest diapering systems to use. We would still be doing prefolds and covers, except for a request from daycare for a "one piece" diapering system. Now I have prefolds and covers, fitteds, pockets, AIO's, and wool. I keep saying I'm going to downsize, and haven't. Keep It Simple, Sweetie!
3. Here's an interesting trick:
don't clean poopy pocket diapers right away
. I learned about this from daycare - I would read the Wee One's report sheet from daycare, and it would say she had a loose BM. I'd check the diapers for the poopy one to dunk-and-swish, and when I came across the only one with poo, I would think "that's not really 'loose'." Then I figured out: the microfiber insert continues to absorb the moisture, so what used to be covered in mushy poo is now a semi-solid little mass that you can flick off into the toilet. I'm not saying let them sit around and grow stuff, I'm just saying a few hours never hurt anything.
4.
Use pockets that unstuff themselves
. I use the
Thirsties Duo Diaper
, and you don't have to unstuff it when you put it in the washer. In the first rinse, the insert comes out of the sleeve in the wash. Fabulous! If I have a wet bag full of those diapers, I can just dump the whole contents into the washer. With other pockets, I have to stand there and pull wet inserts out. Not with the Thirsties. I have also tried the Pocket Change diapers and those do the same thing - but they aren't as fabulous as the Thirsties! Now, these pockets "unstuff" themselves in the wash, but I have yet to meet a pocket diaper that "restuffs" itself after the dryer!
I'm totally drawing a blank here. I usually have so many little tricks that I've thought of, and now I can't think of any. What are yours? Link up your post below! Be sure to follow me (@MommieV1) or @funkymamabird on Twitter to get next week's topic!