If you're interested in more posts on cloth diapers, click on the Cloth Diapering tab above. There's lots more to read!
Our topic for this first Cloth Tushie Tuesday is ... tell us about your "first" experience with cloth diapers - the first diaper you ever bought or used. Grab the button and join the fun! Be sure to follow @funkymamabird or @MommieV1 on Twitter to get the prompt for each week, and join up on the McLinky here or at Funky Mama Bird's
nest
!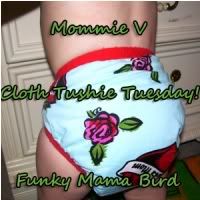 When I began researching cloth diapers, I came across the
Diaperswappers forums
, and got hooked. Here was tons of information about every type of cloth diaper imaginable. Once you understand the lingo, that is.
Lots of mamas talked about buying, selling, and trading diapers on
FSOT
. I came to understand that was the series of forums under the title "For Sale Or Trade" (I got it eventually!). I began perusing said forums, looking at the photos of the diapers I was considering for my stash.
I came across a post from a mama offering three KL0s. For those of you not up on the used cloth diaper lingo, those are
Kissaluvs
brand fitted diapers in size 0. These are highly recommended for newborns, as they have a snap-down rise to avoid irritating the healing umbilical area. They are made of cotton sherpa, with elastic around the legs, to contain all the runny newborn poo. The mama's post said they had been prepped (washed) but not used, and her price was several dollars less than it would cost to buy them new from an online retailer. Especially since the custom is that the seller pays for shipping, so her listed price was the total I would pay. (PPD in the listing means postage paid or postage paid domestic)
I had never bought anything from another mama on FSOT before, although I had read all the stickies and all the how-to posts, and everything that I thought would help me understand the transaction process. I sent her a direct message that I was interested in the diapers. I did give her a heads up in the message that I was new at this process, so that she might be kind to me in the event that I screwed something up. She was very kind and generous. She emailed me back her paypal email address - which in a transaction like this is the handshake part. I got on paypal and put in her email address, the amount listed in her ad, and a few clicks later, it was done. She messaged me that the diapers would go in the mail that afternoon.
I looked at my computer and said, out loud, "it's that easy? Oh, this could be dangerous!"
Buying diapers used online has some advantages. You can usually save a few pennies, especially if the seller follows the custom that sellers pay for shipping. You can try out a diaper you are interested in before you invest in several new ones. And if something doesn't work for you, you can always re-sell it to try to recoup some of what you spent - but you will have to pay for shipping as the seller so you won't really break even.
Buying diapers used online has some distinct disadvantages. I was lucky that mama with the KL0s was honest and nice and sincere. I didn't know to ask any questions, and she had nothing to hide, so the transaction worked out well. Other mamas will tell you everything is fine with a diaper, until you get it and find out it leaks, the PUL is shot, it's stained, and was an irregular so it doesn't fit true-to-size. Make sure you ask lots of questions and ask for lots of photos so you know what you're getting.
These were the photos I took for my listing when I re-sold the KL0s when Wee One was about 4 months old.
I bought many more diapers and accessories online since that first purchase. I got some good deals and I ended up with some crappy diapers too. I have sold some diapers on FSOT also, and I learned alot about what other mamas look for in a diaper as well. I think that forums such as these make it easier to try a new diaper, or to stock up on ones you like. As long as you keep your eyes open.
Happy shopping!
If you have a post about your first cloth diaper, be sure to join the McLinky and grab the button for your post. Please link
directly to your post
and not your main blog site. Come back next week and join us again!