I didn't have a
meltdown
yesterday. So I'm actually doing Make It So Monday on, yes, Monday. Amazing.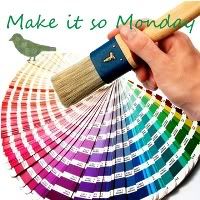 I wrote last week about
painting the bathroom
. Getting this bathroom painted was the first step in a long line of dominoes. I had two boxes of "bathroom stuff" sitting in my bedroom, waiting to be unpacked. In order to unpack them, I needed to finish painting and figure out some sort of organizing solution for two tiny bathrooms and a tiny hall closet. Once I got the bathroom stuff put away, I could get my bedroom cleaned up.
The final picture of the bathroom:
Some storage under the sink, also:
Other items were stored in the hall closet, which is located somewhat between the two bathrooms:
I didn't plan well when starting the organizing. I thought these drawers were a great idea, except they didn't fit. So, baskets it is.
What to do with the extra drawers? Oh, I can get rid of that box (leftover from moving almost a year ago) that I use as a catch-all for sippy cups and lids and baby bowls in the kitchen. Awesomness.
Speaking of the kitchen, are you ready for the "after" photos?

The floor :)

And since all of that is done, I can finally clean my bedroom for once. Since I was on a buying spree anyway, why not a new comforter and bedskirt and sheets for the bed too?
So now I'm seriously broke. But, the kitchen has a new tile floor, new appliances, and a place for sippy cups. Both bathrooms are organized, and the bedroom looks comfy cozy.
Betsy
is right, it does make you feel pretty amazing to make changes in your surroundings!