Well, not exactly. But they are my main method of storing diapers. And organizing lots of other things too.
Put a pile of
crap
stuff in a tote, and instantly, you're organized. It's a beautiful thing.
So after diaper laundry, which we discussed a couple of weeks ago, I go ahead and "fold". I separate out cloth wipes into a pile, pull out prefolds if there are any, and then stuff all the pockets so they are ready to go.
Then into the totes they go.
(I posted some photos
here
a couple of months ago. Since I've already uploaded them to Blogger, and since I'm have a really shitty day, it won't let me upload them again. Ugh.)
When I first started cloth diapering the Wee One, we used mostly prefolds. I used a diaper stacker someone had given us - you know, the thing that hangs on the wall that matches the quilt and bumper and whatever-else-in-the-package-is-really-cute-but-you-never-use. Well, those things are P E R F E C T for stacking prefolds. The infant size work great laying flat, and the premium size work great folded in half and stacked.
Alas, along came daycare and their request for "one piece" cloth diapers. So now we have tons of pockets. I'm sure they'd work in the diaper stacker too, if it hadn't gotten lost in the move.
So, totes it is.
----
Thanks for coming by Cloth Tushie Tuesday.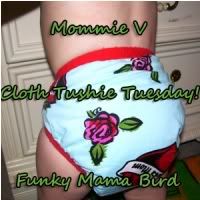 So how do you store and organize your cloth diapers? Link up and tell us about it!